So, you've heard lore about the olden days of analog synth richness, or perhaps your favorite producer is rumored to be using analog synthesizers to get that unobtainable sound. Where does a broke chump like you start?
With a virtual analog vst of course. Software synths have come a LONG way from the early days, and some vst soft synths can really move air like their older meaty grandpas (especially in the context of a mix). But which vsts are capable of that low ballsy sound with breathy whispering buzzy highs?
Here is a list that should get you going. Feel free to comment with additions, especially freeware!
Polykb
-
amazing
sounds. A lot of soft synths tend to sound similar. This synth actually really has its own sound. Really lush spacious pads, and a whole assortment of other unique sounds. But it uses a dongle. A dongle, in this day and age! People can use a crack for free, with no dongle, but XLIS' customers get to pay for it, AND buy/be burdened by a dongle. It is laughable. I recommend skipping this one until they come around. Come on XLIS! I really want to buy this one!
Okay, here is a video by Torely. This guy is a trip,
if you've never seen him before... let's just say he
is high on life.
Poly-Ana
- This synth sounds good. Bottom line. It sounds good. 3 oscillators, 3 envelopes, 2 lfo's, and some mad modulation options. All that is actually meaningless. It just sounds good. A little pricey for such a small company. I like my synths around the $100 mark. But still. Just demo it and you might be opening your wallet.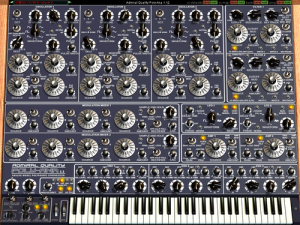 Whatever you do, don't watch this video!
Trust me, Poly-Ana is WAY better than this.
But a balding guy playing a keytar...
okay, maybe you should watch it.
Curve
- This synth is capable of analog sounds, but it also has a lot more going on than that. Fast envelops, drawable waveforms, an active community with patch sharing, and more than that, this is a hungry company that wants to make incredible music making tools. They are always updating this thing. Take the demo for a spin, see what you think. They just did an Easter discount, and they're always up to satisfy their customers, so check em out.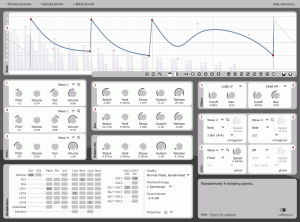 Check this vid. I think they've updated this synth
since this was made, but it sounds incredible, and
there are now some modulation options.
Check back in for part 2. I haven't saved the best for last this time, as all of these sound great and have their own little things that make them special, so you'll just have to try the demos.